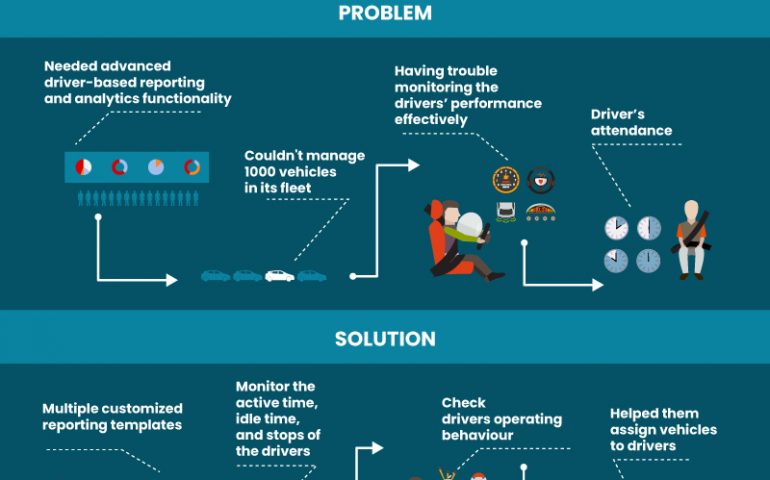 Success Story of Flotilla IoT
PROBLEM:
Flotilla IoT's reseller En Route Technologies required more advanced driver-based reporting and analytics functionality for one of its clients. The client was a large-scale fleet business with around 1000 vehicles in its fleet. Unlike other users, this client had different challenges due to the enormous size of its fleet. It required assistance in monitoring the drivers' performance effectively. Due to operational needs, it required customized driver reports showing fleet activity with respect to drivers. They wanted to view the driver's attendance, work shifts, and vehicles driven by every driver on a daily basis. In addition to that, they wanted to view the vehicles that have not been driven by a specific driver.
SOLUTION:
As En Route Technologies was using various fleet management system, it examined all of them to find solution to the problem. After thorough research, Flotilla IoT's reporting module resolved the issue. Due to the availability of multiple customized reporting templates, they found the solution in the in-built functionality of the software. They incorporated driver-based reporting to fulfill the requirements of the client. When the system was deployed, it provided the desired functionality to the client. It helped them monitor the active time, idle time, and stops of the drivers daily. They could check the vehicles along with the drivers operating them. It helped them assign vehicles to drivers effectively during daily trips. With detailed driver-based reports, the client got valuable analytics and insights about the drivers' performance. It proved to be helpful in enhancing productivity and boosting profits.
FEEDBACK:
The client was thoroughly satisfied with the adaptability of Flotilla IoT's reporting module. It provided them the desired solution to their problems and facilitated their operations. Now, they are hands-on with the report customization and use it according to their requirements.