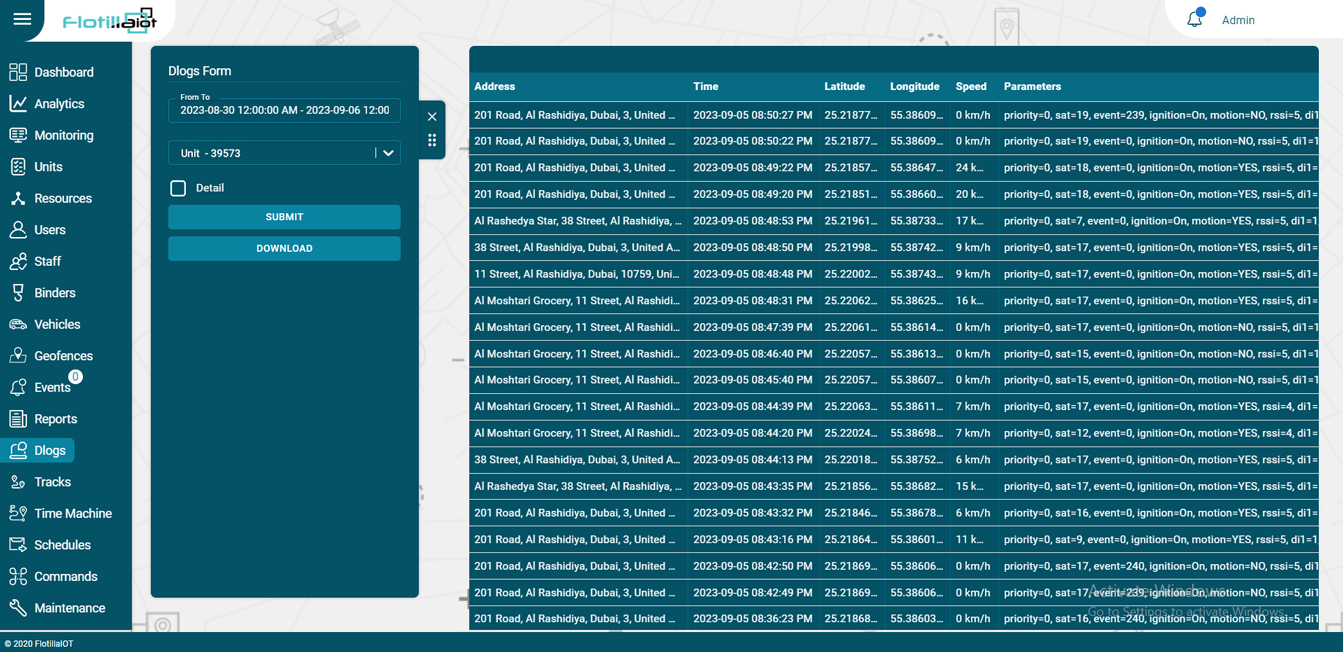 Everything You Need to Know About Flotilla IoT Dlogs Module
Data is the most integral part of fleet management operations. Efficiency and productivity of a business is highly dependent in the accuracy of information. Managers use fleet data to strategize and make smart decisions. Modern fleet management systems are putting a lot of emphasis on data and record keeping.
Flotilla IoT offers a Dlogs module that contains complete history of vehicle data. It allows a user to check all the raw data received from the vehicles in a specific time interval. Let us look at Flotilla IoT's Dlogs module in detail.
What is Flotilla IoT Dlogs Module?
Flotilla IoT Dlogs module is an abbreviation of ''Data Logs''. It contains the raw tracker data with date and time at which it is received. The data includes everything from address and speed to ignition status and sensor values.
How it works?
In the Flotilla IoT Dlogs module, you can select the duration first for which you want to view data logs.
After selecting the duration, you have to select the unit for which you want to view the data.
There is a detailed checkbox that can be checked to get all the attributes in separate columns.
After generating Dlogs for a specific duration, you have the option to download it in excel format as well.
What is its Purpose?
Dlogs are designed to maintain a complete record of all the data received from all the vehicles of the fleet. If anyone wants to extract vehicle data for any specific time period, it can be done through a single click.
Benefits of Flotilla IoT Dlogs module:
The data available in Dlogs can be helpful in various ways for running smooth and hassle-free operations. Let us discuss some of them here:
Identifying Issues:
Dlogs help in identifying issues and troubleshooting. For example, if the driver ID is not showing with a vehicle, you can go and check the data to ensure that the Dirver ID was punched or not. If it is not showing in the Dlogs, it means that the ID was not punched properly. Similarly In other scenarios as well, the Dlogs can be helpful in getting to the root cause of an issue.
Technical Support:
There are many complaints faced by a fleet management service provider and most of it is linked to data. Dlogs come as a sigh or relief for the support teams as it can be helpful in checking the debugging of client problems. For example, if a client complains that ignition status is not showing on the software. By checking dlogs for the specific time instant, you can check whether ignition data was coming from the device or not. You can show the required data to the clients as well to help them understand and resolve a problem.
Analytical Insights:
''Data is King'' This phrase is completely true in case of fleet solutions. It can help run smooth operations and strategize smartly. From understanding the behaviors of various device models to anticipating possible loopholes in software functionality, Dlogs offers you everything.
Authentic record of data is the key to success for any fleet management system. The Flotilla IoT Dlogs module is tailor-made to meet the evolving demands of fleet businesses. It is an all-encompassing feature that helps businesses run their operations with the power of real-time data.