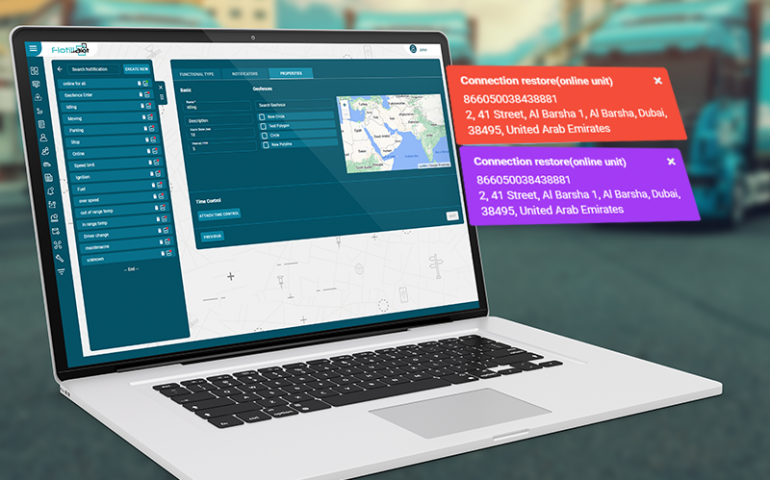 Everything you need to know about Flotilla IoT's notification alerts
Flotilla IoT is an innovative GPS tracking software designed for the new age fleet management challenges. It offers excellent features ranging from vehicle monitoring and maintenance to driver management and reporting. There are several modules in Flotilla IoT, providing all-in-one platform for a business's operational needs.
There are some features in the Flotilla IoT system, like notification alerts, which are prevalent in most modules. They facilitate many operations to run hassle-free. Also, they give managers a better picture of the operational performance. Therefore, their role in monitoring is pivotal and hard to ignore. In this blog, we will discuss notification alerts of Flotilla IoT software in detail.
What is the purpose of notification alerts?
Flotilla IoT allows users to set alerts as reminders for any important event or receive timely information. Thus they enable managers to remain aware of the latest activity, allowing them to strategize much effectively.
How are they used?
Users can set any parameter like an event or a report and set a notification for it. They define the date and time for receiving the notification. There are also more customization options available, like setting trigger timings and exemptions. Flotilla IoT is one of the many GPS tracking software that offers detailed customization in notifications.
Where are they used?
The main purpose of using notification alerts in Flotilla IoT is to facilitate users to monitor the operations efficiently. These modules are as follows:
Geo-fences:
The geo-fences are the geographic periphery created by the user on the map for monitoring purposes. Users can set notification alerts for the entry and exit of a vehicle in the geo-fence.
Units:
The vehicles are generally referred to as units in the Flotilla IoT system. In this module, the user can assign different notification alerts to various units and their groups. The users can select the Functional Type, Notification Type, and Threshold value to set a notification.
They can also choose the notification receiving medium out of web popup, mobile pop up, SMS, and email. You can also set the alerts for different customized sensors.
Events:
A user can create different custom events like ignition ON/OFF, idling, towing, and notification alerts can be set for them. The user can create a notification by setting the Functional type, Notification type, and other customization options for triggering. After that, the user selects the medium for receiving notification. They can choose their user email or any other custom email for receiving notifications.
Users can add more discreet customization settings for notification alerts like trigger time/day, trigger exemption, notification alarm duration, etc. They can also schedule notification alerts to trigger based on time interval, like days-wise, weekly, and monthly.
Reports:
In the report option, users can view all the notification alerts created by them. By selecting the event report template and unit, the user can view all the notifications reports.
Maintenance:
The user can set notification alerts for different maintenance tasks to carry them out on time. You can also set threshold values for parameters to trigger the alerts. For example, you can select the engine oil volume at which you want to receive an oil change alert.
Flotilla IoT's notification alerts feature is beneficial for managers. Unlike other GPS tracking software, it provides more detailed customization for notifications. These alerts play a pivotal role in running operations smoothly.