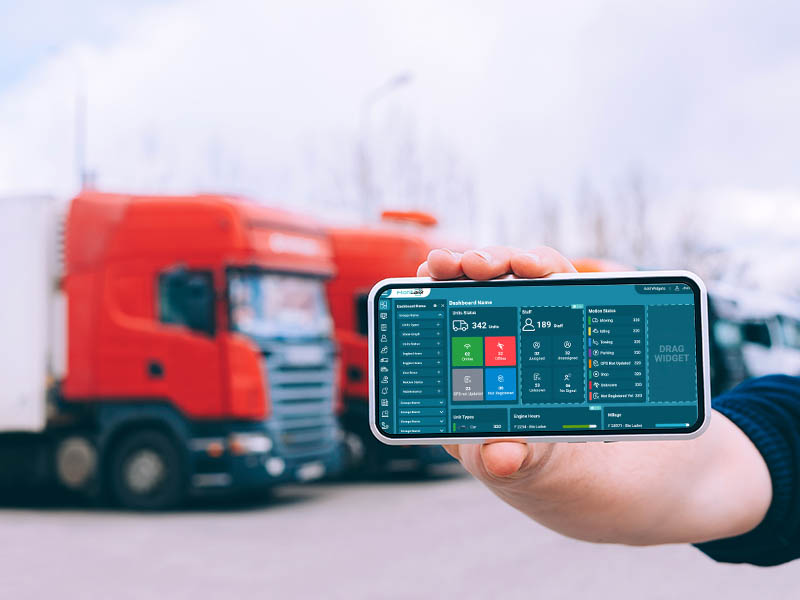 How Flotilla IoT helps in Asset Tracking?
Flotilla IoT is a complete tracking solution offering a wide range of services ranging from fleet management to asset tracking. The solutions it offers are custom-built keeping the requirements of the clients in mind. Apart from our time-tested vehicle tracking service, Flotilla IoT's asset tracking software is also highly in-demand. Its innovative features help businesses to track both static and mobile assets effectively.
With the help of asset monitoring, a business can manage its resources better and achieve enhanced productivity. Let us look at the ways in which Flotilla IoT facilitates different types of asset tracking.
Sensor Integration:
Flotilla IoT offers a wide range of sensors including weight, temperature, humidity, etc. to monitor assets efficiently. With these sensors, you can track a variety of items from solids to liquids. For example, if you want to track a food item, you can create temperature and humidity sensors. You can create events to receive a notification whenever the temperature and humidity exceed the desired range.
While tracking liquids, you can create a custom sensor for weight or volume to detect any leakage. It will help ensure that the quantity of the liquid remains the same. Similarly, you can track fuel consumption by attaching a fuel sensor and creating an event for it. Whenever there is a leakage, you will receive a notification for it.
Remote Tracking:
As a manager, it is hard for you to sit all day in one place for monitoring. You might have to leave your desk for doing other tasks. Keeping this scenario in mind, Flotilla IoT asset tracking software offers a remote tracking app that allows you to get real-time updates about your assets on the go. From the current status and location to real-time notifications, Flotilla IoT mobile app offers everything.
If you are tracking any machine like a generator or crusher, you will be notified when it is turned on. You can monitor the total activity of the machine through your mobile app enabling better productivity.
Mobile Asset Tracking:
Do you want to track a mobile asset? Flotilla IoT makes it possible by offering an innovative Trailer module. The trailer is a luggage carrier that can be attached to the back of any vehicle. Whenever it is connected to a vehicle, Flotilla IoT tracking software notifies it by displaying discreet details like Trailer ID, Name, etc.
Once the trailer is attached to a vehicle, you can start tracking it on the Flotilla IoT software. If the trailer is removed during the trip and attached to another vehicle, you will receive a notification for it.
Foolproof Safety:
Safety is always a point of concern during asset tracking. Flotilla IoT asset tracking software offers excellent features that enable foolproof safety. The live tracking keeps you updated about the real-time status and location. You can create an alarm sensor to get alerts for unauthorized activity. With geofencing, you can detect whenever the asset goes out of the designated area. 
Flotilla IoT also offers many features to prevent the theft of machinery. For example, you can create identification sensors to ensure that only the authorized person is starting the machine. You can also conduct preventive maintenance of the machinery to ensure safety.
The Trailer module helps prevent theft of mobile assets as it notifies every time the trailer is moved from one vehicle to the other. In the case of fuel monitoring, you can create notifications for leakage to prevent any accident.
Reporting:
Flotilla IoT asset tracking system offers numerous reporting templates to get useful data insights. From sensor to trip and geofence reports, you can select different templates to analyze the data. You can also create customized reports to view the required type of data for your asset monitoring. For example, you can create reports for checking the temperature and humidity of the storage through sensor tracing reports.
For mobile assets, you can create trips reports to view the history of all the trips taken by the vehicle. You can create engine hour reports to check the usage of different machinery. Moreover, you can also generate maintenance reports to view the service and repair history.
Flotilla IoT offers all the features of the latest asset tracking software. It not only helps businesses to ensure the safety of the assets but also optimizes productivity. If you also want to track your assets with complete control, book a demo.