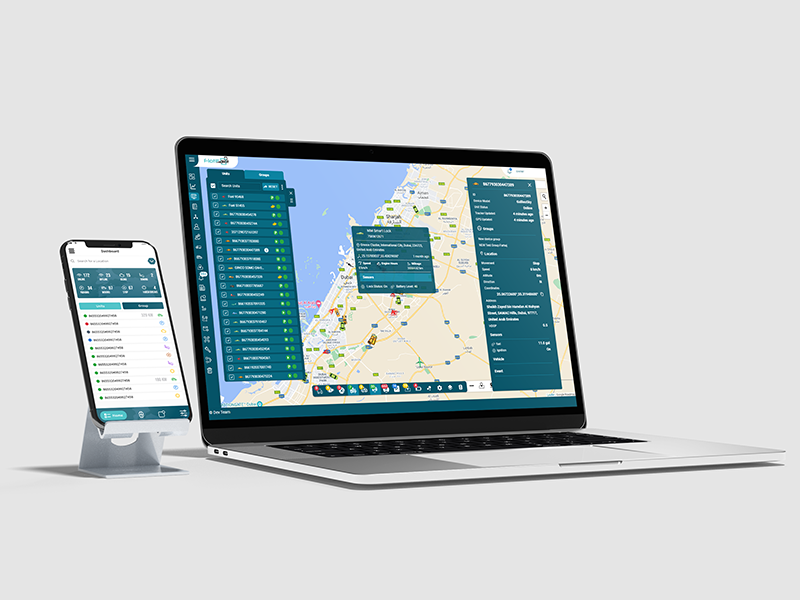 Flotilla IoT White Label GPS Tracking software
If you want to establish your own tracking company but find it challenging to start from scratch, there is no need to worry. Flotilla offers you the head start you always needed in this business. It provides excellent white-label GPS tracking software with a variety of features to facilitate GPS tracking companies.
Flotilla White Label GPS tracker is tried and tested as it is being used by many large and small-scale companies in the market. It delivers a customer-oriented, easy-to-use, and feature-packed platform that would boost your business within days.
What is White label GPS Tracking software?
White labeling is a technique that allows resellers to rebrand the software of a company to sell it as their product. White-label GPS tracking software provides businesses with a cost-effective and convenient alternative to tracking software. They can sell it in the market with their Name, logo, color scheming, and complete branding. It is a beneficial situation for both the manufacturers and resellers as they can increase their sales.
Features of Flotilla IoT White Label GPS Tracking Software
Flotilla provides a variety of features in its white-label GPS tracking system. These features can be enhanced or modified according to the demand of our customers. Some of these features are:
1. Active Real-time Tracking
You can monitor the location of the vehicle at all times with real-time tracking. With the Monitoring module, you can view the latest motion status and the location of the vehicles. It is a big relief for the fleet managers as they can remain updated about the location of vehicles all the time.
2. Passive Tracking
The complete history of all trips is recorded and stored in the white-label GPS tracking software. Vehicle location and sensor data of any date from the past can be obtained through passive tracking features. By selecting the time duration, you can view the total trips completed during that time. You can also view the route taken during a trip along with the motion status at various instances.
3. Geo-fencing
The Geofencing module allows you to closely monitor vehicle activity within a particular area. You can set a predefined geographical boundary to create a geofence. A vehicle entering or leaving the boundary triggers the alarm to alert the manager. It is highly helpful in ensuring safety and enhancing efficiency.
4. Engine Idling Monitoring
Flotilla IoT white label GPS tracking system allows you to monitor engine idling at all times. You can also create an event for idling and receive a notification whenever the vehicle idles during the trip. In addition, a specific time can also be set to receive alerts whenever idling is done during that duration.
5. Driver Behavior
The Flotilla vehicle tracking solution can monitor driver behavior efficiently. Speeding, sharp cornering, idling, harsh braking, etc., can be detected and notified on the software. That data is used to rate drivers through a star-based system. This feature helps companies improve driver behavior.
6. Route Optimization
Flotilla IoT recommends the shortest and most fuel-efficient path after considering many factors such as traffic, stop durations, road disruptions, vehicle capacities, time windows, etc. Different indicators show the traffic situation on the map. For example, red lines indicate heavy traffic; orange lines show moderate traffic; green lines show light or no traffic. Thus, the Flotilla IoT system reduces the time of every trip and fuel cost, which enhances system efficiency and profitability.
7. Immobilize Vehicles
Our software provides an option to send commands like Power Cut or Ignition Off in case of vehicle theft. When an emergency happens, the vehicle can be instantaneously locked by sending real-time commands. It helps in stopping the vehicle's movement offering time to plan and implement recovery.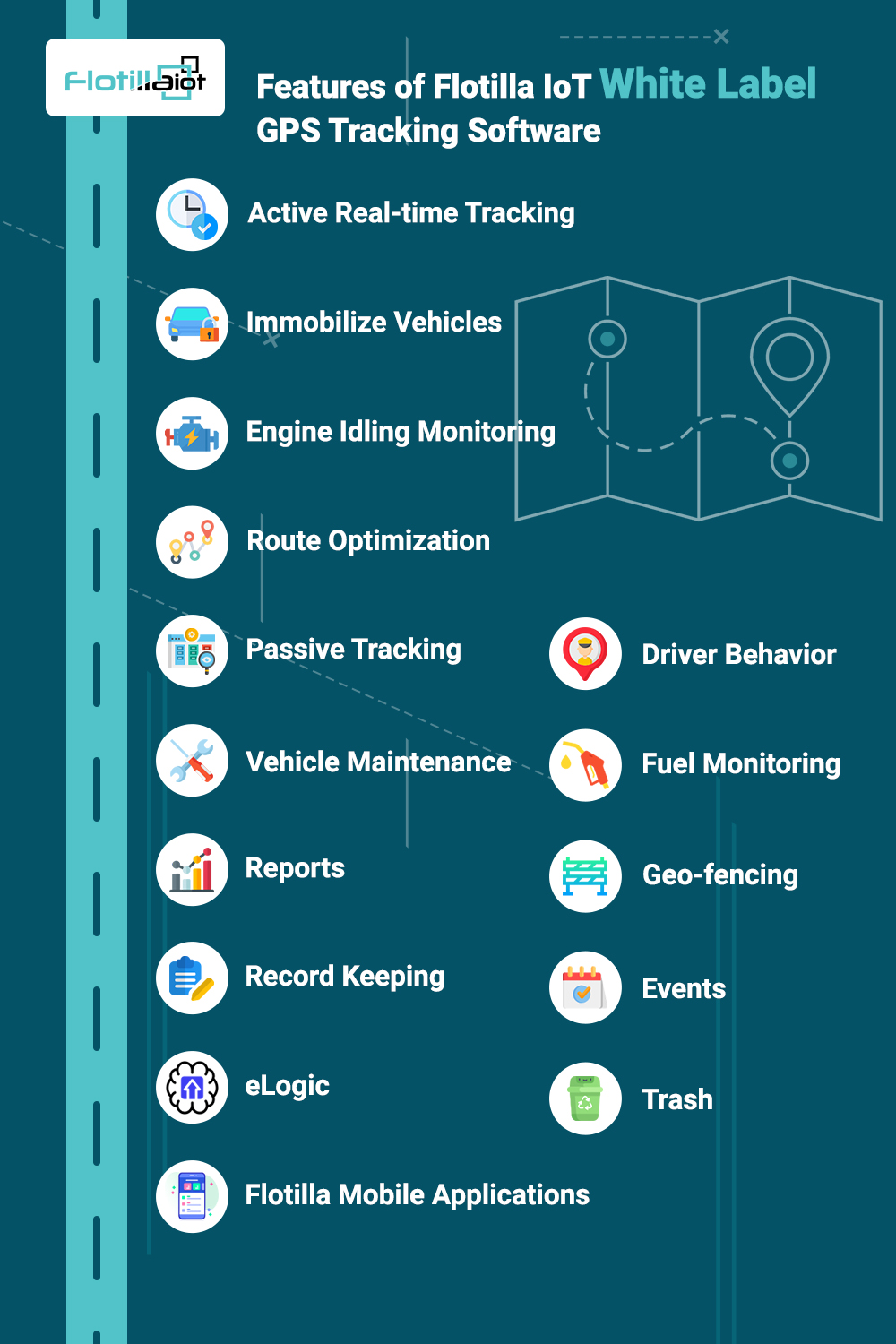 8. Vehicle Maintenance
Flotilla software keeps an overall record of a vehicle's condition to plan out maintenance tasks effectively. It automatically generates reminders for tune-ups, oil changes, filter replacements, and other routine maintenance. When maintenance becomes due, you will receive a real-time notification. You can also keep track of the expenses spent on service and repair tasks.
9. Fuel Monitoring
Flotilla white label GPS tracking software for cars provides complete control of the fuel tank. It keeps track of where, when, and how much fuel is inserted into the vehicle. The software automatically generates an alert when refueling is required. It also protects against fuel theft and leakage by triggering an alarm if there is a steep decline in fuel amount in a short period. One additional feature is that it offers a detailed monthly analysis of fuel consumption for every fleet vehicle. 
10. Reports
Our white-label GPS tracking software generates daily, weekly, as well as monthly reports. You can also set any customized time duration to create reports. These reports are based on many factors, such as vehicle efficiency, driver behavior, fuel consumption, warnings issued, idling, etc. You can select any reporting template to view detailed data related to it. These reports provide complete insight into the functioning of a fleet.
11. Record Keeping:
From Units and Vehicles to Staff and Trailers, Flotilla IoT allows efficient record-keeping of various elements of fleet operations. With every little detail recorded in the system, you can extract any data according to your convenience. You can also add groups of different entities to monitor them collectively. With the help of the Dlogs module, you can check the data sent by the vehicle at different time instants.
12. Events:
You can create various customized notifications with the help of the Events module. From analog and digital to movement and fuel, you can create notifications for different functional types. When the selected event occurs, the notification is triggered in real-time, resulting in effective monitoring.
13. eLogic:
The logic module of our white label GPS tracking software helps find unknown values by using the available data inputs. You can apply logical and arithmetic operations on the data inputs sent from the device to find out the required values.
14. Trash:
The Trash module is ideally designed to prevent the loss of valuable data through any mistake. If you accidentally delete an entity, it will go in the trash rather than be deleted immediately. You can restore it within 30 days; otherwise, it will get deleted automatically.
15. Flotilla Mobile Applications
Flotilla also provides two mobile applications along with the white-label GPS tracking system, including FX Tracker and Flotilla IoT. Both the apps are available on Android and Apple stores. Through this application, company managers can view and monitor multiple devices at a time. Let us look into them in a little detail:
Flotilla IoT is a remote monitoring app that allows you to check the fleet operations on the go. From the real-time status and location of the vehicles to viewing the trip history, you can monitor everything from your mobile phone.
Key features:
• Live GPS tracking and travel history.
• List and management of units.
• Real-time access to real-time information about motion and power status, data reality, and device location.
• Use unit groups and display units in the unit group.
• Map mode provides access to the units and event markers on the map and optionally detects their location.
• Tracking mode to check the exact tracking of the position of the device and all parameters received from it.
• Managing notifications, receiving and viewing notifications, and viewing notification records.
FX Tracker is a live mobile tracking app. By entering a unique ID, you can connect a unit with the FX tracker app and start tracking. Wherever the mobile phone with the FX tracker app goes, it shows on the monitoring screen. It is helpful to track drivers and their activities during trips.
Key Features:

• Live GPS Tracking
• Offline Data Storage
• Schedule tracking
• Frequency Setting
• Distance Setting
• Logs
Flotilla IoT white-label GPS tracking software is the need of the hour for all fleet companies. It can help them optimize efficiency and productivity to achieve a better return on investment. If you want to get our White label software, book a demo today.